The 88th Academy awards were revealed during a live telecast held February 28, 2016, at the Dolby Theatre in Hollywood, California. With Leonardo DiCaprio fifth nomination, he has finally earned an Oscar for his role in "The Revenant". However, Mad Max: Fury Road was the biggest winners at this ceremony, which six Oscars in film editing, costume design, make-up, sound editing, sound mixing and production design. Though it lost best picture, it was already among the highest-grossing films in this year's field of Best Picture nominees, with more than $377 million in global box office.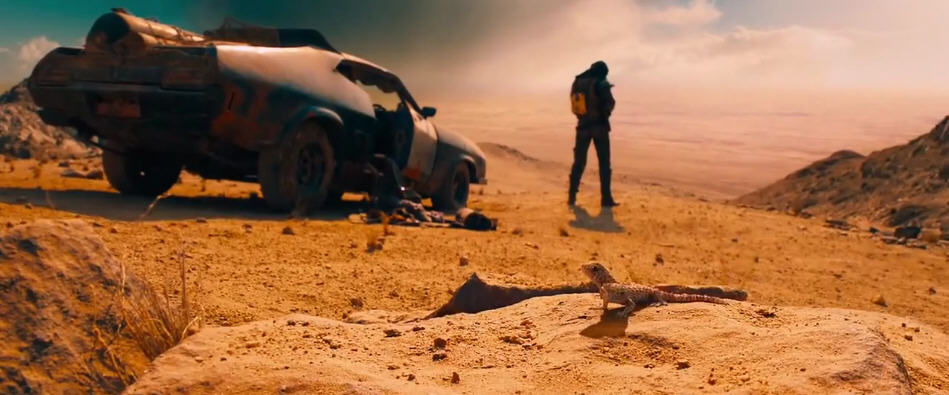 Mad Max: Fury Road Plot Summary: From director George Miller, originator of the post-apocalyptic genre and mastermind behind the legendary "Mad Max" franchise, comes "Mad Max: Fury Road," a return to the world of the Road Warrior, Max Rockatansky. Haunted by his turbulent past, Mad Max (Tom Hardy) believes the best way to survive is to wander alone. Nevertheless, he becomes swept up with a group fleeing across the Wasteland in a War Rig driven by an elite Imperator, Furiosa (Charlize Theron). They are escaping a Citadel tyrannized by the Immortan Joe (Hugh Keays-Byrne), from whom something irreplaceable has been taken. Enraged, the Warlord marshals all his gangs and pursues the rebels ruthlessly in the high-octane Road War that follows.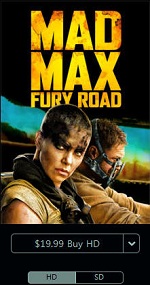 Mad Max: Fury Road is a gorgeous movie: with a bunch of important underlying messages about autonomy, sexism, climate change, greed... Fury Road has everything, executed with a grace that is frankly astonishing. This movie makes impossible things look damn easy. Even its own backstory-the years Miller and co. spent laboring to get it done, in the face of mind-blowing setbacks-exhibit the best kind of filmmaking passion. Some reviews for you.
A gorgeous, scrap-metal demolition derby of a popcorn picture. - Bob Mondello, NPR, May 15, 2015
For anyone who denied that Titus Andronicus could ever be mashed up with The Cannonball Run, here is your answer, and we are only too happy to follow Nux as he cries, "What a lovely day!," and accelerates into a whirlwind of fire. - Anthony Lane, New Yorker, May 15, 2015
Mad Max: Fury Road delivers. There's no clearer or more succinct way to put it. 30 years after last appearing on the big screen, Max roars back with a vengeance. - James Berardinelli, ReelViews, May 23, 2015
Mad Max Fury Road is an incredible, intense, action packed flick. The movie wouldn't end and I didn't want it to. The soundtrack is breathless. The action is outstanding. The special effects were spectacular. The actors were perfect. This movie is an epic ride that everybody should take a look at. - Hawkeye Rules, Oct 10, 2015
How to play Mad Max: Fury Road Full Movie freely
Simply put, Mad Max: Fury Road is one of the best action movies we have ever seen. Now, Mad Max: Fury Road's full movie is available for the HD version costing $19.9 from the iTunes Store.
If you want to play the purchased iTunes movies freely, M4V Converter Plus (For Mac & For Win) is such a useful software which can convert iTunes M4V movies & TV shows to all standard formats like MP4, MOV, WMV, FLV, AVI with 30X faster conversion speed. This software green, environmentally friendly, compact, powerful, can completely uninstall, ease to use. The following article is simple steps to users who want to convert iTunes movies pruchased from iTunes Store like Mad Max: Fury Road for playback anywhere.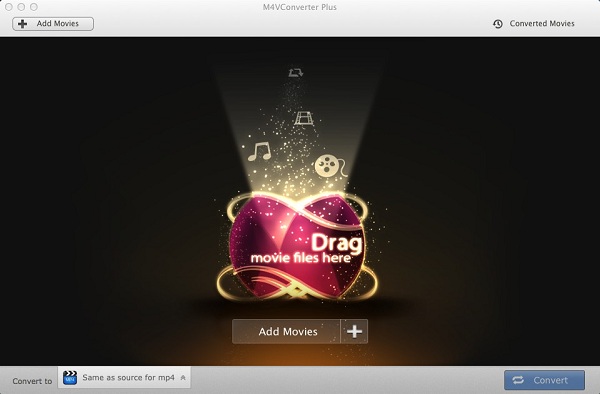 1. Download, install and launch.
Free download M4V Converter Plus for Mac via the link above and install it on your Mac. Then open the program to have a free trial.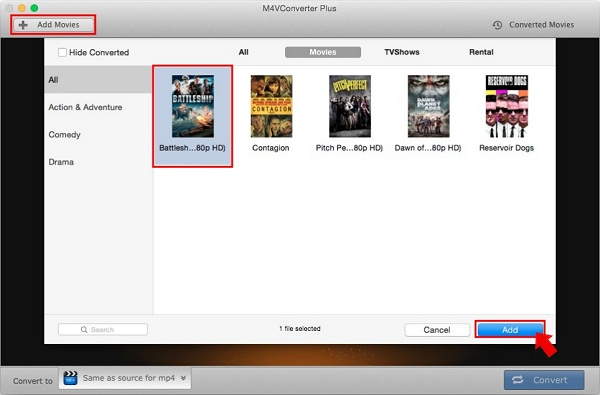 2. Import iTunes movies to the program.
There are three ways for you to add iTunes movies to the program. 1-> Click Add Movies button in the upper left or center. 2-> You can also drag and drop iTunes M4V files into the panel directly. 3-> click Add File in the menu bar for conversion.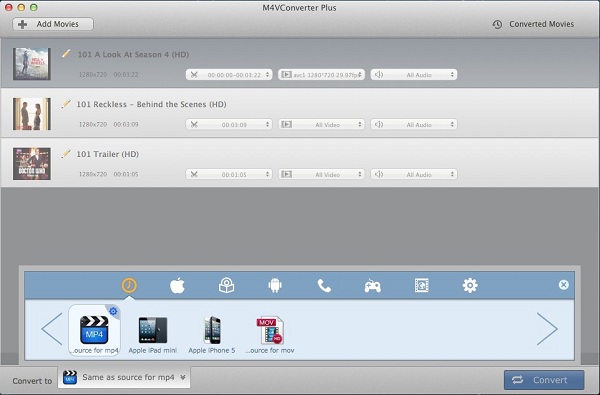 3. Customize the output format.
Hit Convert to profile drop-down list to set the output format for the converted Mad Max movies. If you don't have specific devices to set, you can save the converted iTunes movies as Same as source for MP4.
4. Start Mad Max: Fury Road conversion.
After all settings done, click the Convert button at the bottom right of the program to begin the iTunes movies conversion progress.
Related Topics