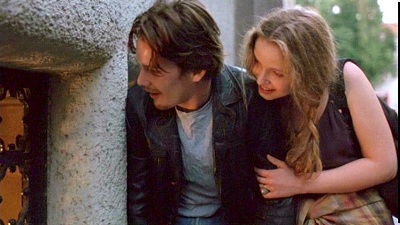 11. Before Sunrise
On his way to Vienna, American Jesse (Ethan Hawke) meets Celine (Julie Delpy), a student returning to Paris. After long conversations forge a surprising connection between them, Jesse convinces Celine to get off the train with him in Vienna. Since his flight to the U.S. departs the next morning and he has no money for lodging, they wander the city together, taking in the experiences of Vienna and each other. As the night progresses, their bond makes separating in the morning a difficult choice.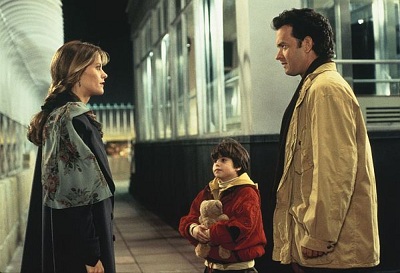 12. Sleepless in Seattle
The climactic meeting at the top of the Empire State Building is a reference to a reunion between Cary Grant and Deborah Kerr in An Affair to Remember that fails to happen because the Kerr character is struck by a car while en route. At one point, some of the characters discuss Affair, with Sam commenting "that's a chick's movie". Sam Baldwin, a Chicago architect, loses his wife Maggie to cancer. He and his young son Jonah start new lives in Seattle, but Sam still grieves. 18 months later, on Christmas Eve 1992, Jonah - who wants his father to find a new wife-calls into a talk radio show. Jonah persuades Sam to go on the air to talk about how much he misses Maggie. Hundreds of women from around the country hear the program, and touched by the story, write to Sam. One of the listeners is Annie Reed, a Baltimore Sun reporter.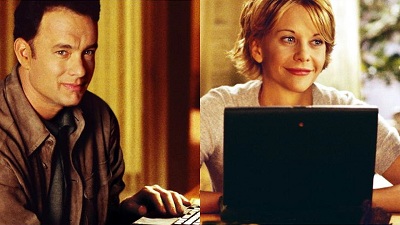 13. You've Got Mail
Struggling boutique bookseller Kathleen Kelly (Meg Ryan) hates Joe Fox (Tom Hanks), the owner of a corporate Foxbooks chain store that just moved in across the street. When they meet online, however, they begin an intense and anonymous Internet romance, oblivious of each other's true identity. Eventually Joe learns that the enchanting woman he's involved with is actually his business rival. He must now struggle to reconcile his real-life dislike for her with the cyber love he's come to feel.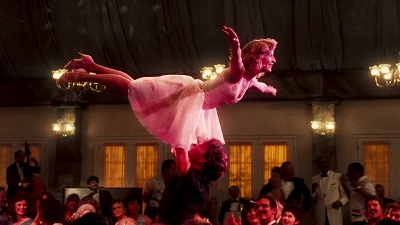 14. Dirty Dancing
The summer of 1963 innocent 17-year-old Baby (Jennifer Grey) vacations with her parents at a Catskill's resort. One evening she is drawn to the staff quarters by stirring music. There she meets Johnny (Patrick Swayze), the hotel dance instructor, who is as experienced as Baby is naive. Baby soon becomes Johnny's pupil in dance and love.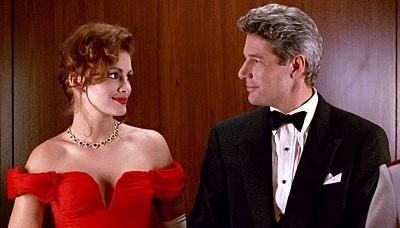 15. Pretty Woman
In this modern update on Cinderella, a prostitute and a wealthy businessman fall hard for one another, forming an unlikely pair. While on a business trip in L.A., Edward (Richard Gere), who makes a living buying and breaking up companies, picks up a hooker, Vivian (Julia Roberts), on a lark. After Edward hires Vivian to stay with him for the weekend, the two get closer, only to discover there are significant hurdles to overcome as they try to bridge the gap between their very different worlds.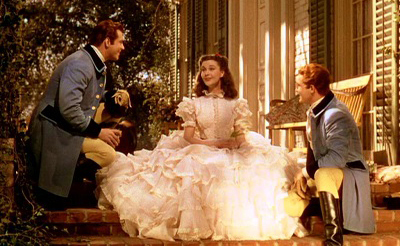 16. Gone With the Wind
On the eve of the American Civil War, rich, beautiful and self-centered Scarlett O'Hara has everything she could want - except the handsome Ashley Wilkes. When war devastates the South, Scarlett must concern herself with more important things than girlhood love. As the nation and the world changes around her, Scarlet finds an adult tenacity that carries her through all obstacles, still in pursuit of what she wants - the man that got away. Sparks fly along the way as the wily Rhett Butler comes in and out of her life - the only man she has met who is a match for her strong will. Only after Rhett walks out on her does Scarlett realize what she has lost... and decides to win him back.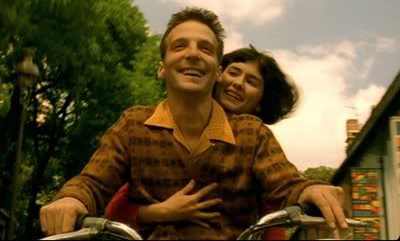 17. Amelie
Nominated for 5 Academy Awards including Best Original Screenplay, this magical comedy met overwhelming acclaim nationwide. A painfully shy waitress working at a tiny Paris cafe, Amelie makes a surprising discovery and sees her life drastically changed for the better! From then on, Amelie dedicates herself to helping others find happiness...in the most delightfully unexpected ways! But will she have the courage to do for herself what she has done for others?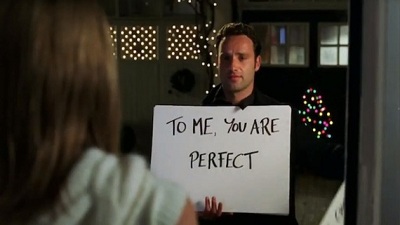 18. Love Actually
"Get ready for fun!" (Leah Rozen, People) with the "feel good movie of the year!" (Clay Smith, Access Hollywood) Love Actually is the ultimate romantic comedy from the makers of Bridget Jones' Diary and Notting Hill. Funny, irresistible and heartwarming, an all-star cast (Hugh Grant, Liam Neeson, Colin Firth and Emma Thompson, to name a few!) will take you on a breathtaking tour of love's delightful twists and turns. Fall under the spell of Love Actually and share the laughs and charm again and again.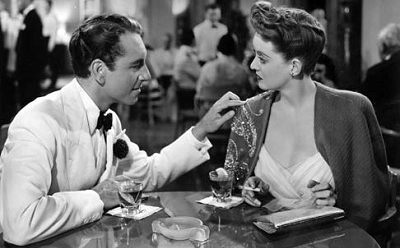 19. Now, Voyager
Young Charlotte Vale (Davis) leads a deeply repressed life, suffering under a domineering mother, until psychiatrist Dr. Jaquith (Claude Rains) encourages her to emerge from her cocoon. On a trans-Atlantic voyage, Vale falls in love with Jerry Durrence (Paul Henreid), who is trapped in a loveless marriage. Rather than break up Durrence's marriage, Vale becomes a surrogate mother to his emotionally disturbed daughter, rescuing her from the fate from which she was rescued by Dr. Jaquith.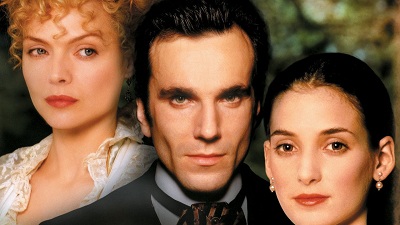 20. The Age of Innocence
A ravishing romance about three wealthy New Yorkers caught in a tragic love triangle, the ironically-titled story chronicles the grandeur and hypocrisy of high society in the 1870s. At the center of the film is Newland Archer (Day-Lewis), an upstanding attorney who secretly longs for a more passionate life. Engaged to the lovely but ordinary socialite May Welland (Ryder), Newland resigns himself to a life of quiet complacency. But when May's unconventional cousin returns to New York amid social and sexual scandal, Newland risks everything for a chance at true love. THE AGE OF INNOCENCE is a spellbinding portrait of hidden romance and regret.
Related Topics