We can buy or rent movies from iTunes Store. Buying them spends money, and you can't play them on more than five devices. It limits the time if you rent them. So you will face the problem: how to convert iTunes movies to common video formats, and make them playable on iPod / iPhone such devices. M4V Converter Plus is the answer to meet your need.
M4V Converter Plus is an easy-to-use itunes movie converter, which supports converting iTunes M4V video files to unprotected M4V or MOV formats.
M4V Converter Plus helps you to remove DRM protection, and convert these files to other video formats for various devices. Thus you can enjoy the videos you bought from iTunes store anywhere freely.
The recording and converting speed is up to 5x without having to sacrifice the output quality.
If you would like to convert protected M4V to some other format for your protable video player, at first convert your DRM protected M4V files to unprotected video formats with M4V Converter Plus.
How to convert protected videos to MOV / MP4
First, users need to buy movies from iTunes Store before conversion.
You can visit the newly redesigned iTunes Store, the movies are from comedy to drama, romance to classic, independent to thriller. You can browse thousands of releases from every major Hollywood studio. And you will finally find what you like.
What is more, you can watch interviews and trailers, view photos, and more in your iTunes library on your Mac or PC with iTunes Extras. "A good movie", now you can purchase it. You can play them on iTunes.
Second, free download, install and run M4V Converter Plus.
The user-interface is distinct and easy to use, every option you can find quickly on the friendly user interface.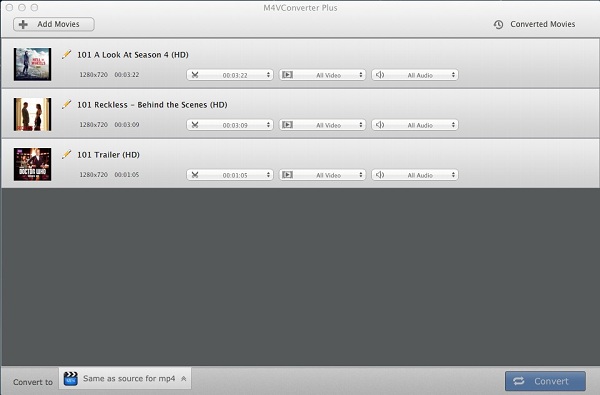 Third, add the videos to convert.
Click the "Add Movies" button, you will see the following image:
The software can default open the iTunes movies playlist.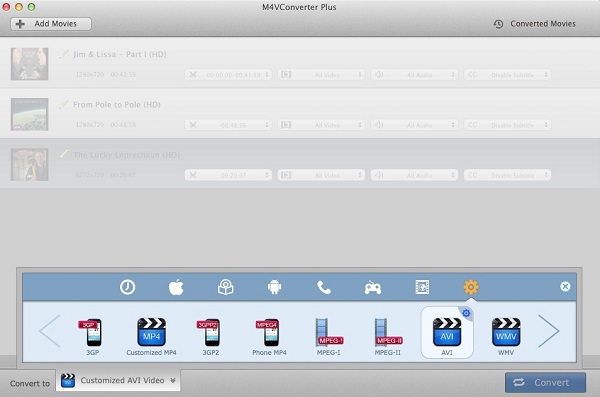 Fourth, set the output format and store path
In the drop-down menu, we can set the output files.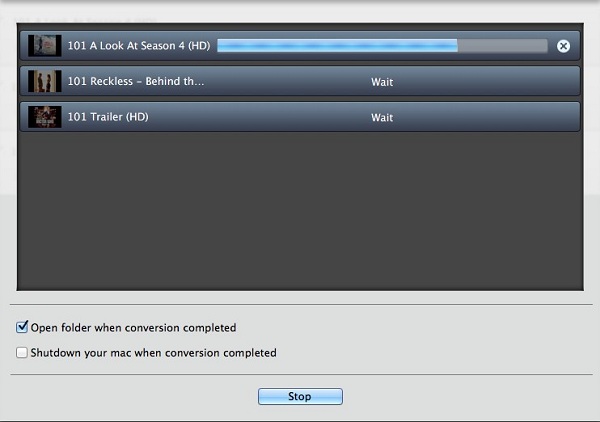 Fifth, start converting
Now you can click the "Convert" button to convert the files. The process is so simple.
If you want to preview the converted files, you can watch them on the preview window.
Finally, now you can enjoy the converted and unprotected MOV or MP4 videos anywhere and anytime.
What is iTunes
iTunes is a media player, media library, online radio broadcaster, and mobile device management application developed by Apple Inc. It is used to play, download, and organize digital audio and video (as well as other types of media available on the iTunes Store) on personal computers running the OS X and Microsoft Windows operating systems. The iTunes Store is also available on the iPhone, iPad, and iPod Touch.
Version 4 of iTunes introduced the iTunes Store, then named the iTunes Music Store, from which iTunes users can buy and download songs for use on a limited number of computers and an unlimited number of iPods. In previous years, purchased music from the iTunes Store were copy protected with Apple's FairPlay digital rights management (DRM) system which allows protected songs to be played on up to five computers at one time, as well as unlimited devices (iPod, AppleTV, etc.) DRM protected songs cannot be played on computers not authorized to the purchaser's iTunes account. At the 2009 Macworld Conference & Expo, it was announced that the iTunes Music Store would be DRM-free, with all songs DRM-free by April 2009.
Related Topics