Part 1. PS4 Pro vs PS4 Slim vs PS4
Part 2. How to Play iTunes movies or TV shows on PS4 Pro, PS4 Slim and PS4
Part 1. PS4 Pro vs PS4 Slim vs PS4: What's the difference
Sony has an exciting lineup of video game machines hitting the market ahead of the key Christmas period. With the existing PS4 being supplemented by new PS4 Slim and PS4 Pro releases, it is an exciting time to be a customer of the Japanese corporation. How do these three video game systems compare to one another? Here is a rundown of the qualities of the console contenders.
4K gaming
Sony has partially released the PS4 Pro in order to deliver 4K gaming, and the machine indeed has the capability to support this resolution. There remain doubts about the ability of the system to deliver gaming in this ultrahigh resolution mode, but Sony certainly indicates that the PS4 Pro is intended to provide 4K compatibility. Nonetheless, gamers are intrigued to find out how the 4K capabilities of the PS4 Pro play out.
Neither the PS4 Slim nor standard PS4 units provide support for 4K gaming, but both are capable of outputting at 1080p, even if 60 frames per second can be a challenge for games developers with both systems.
HDR
The recent PlayStation 4 patch released by Sony providing an HDR update was highly trumpeted at the time. Some users already utilizing 4K display panels, though, have been somewhat underwhelmed by this visual upgrade. This technique provides a higher degree of luminosity, but the differences can be pretty minimal depending on the setup of a particular user.
Each of these consoles offers support for HDR, following the wide spread installation of the new patch.
Video
It is surprising perhaps that Sony has decided against including a 4K Blu-ray player in the PS4 Pro. Well, at least this is the conclusion that one might draw at first glance. After further consideration, it in fact makes sense for Sony to avoid investing in this expensive technology, considering that in the age of streaming media there is no guarantee that 4K Blu-ray will ever become viable.
However, despite the shunning of physical 4K media, the PS4 Pro still provides support for 4K video. Both the PS4 and PS4 Slim are limited to 1080p.
Games performance
Game performance is obviously absolutely essential to any console, and perhaps particularly important for Sony considering that the PS4 has outperformed the Xbox One significantly.
It is no surprise that the PS4 Pro has superior specifications and power to both the PlayStation 4 and Slim; after all, it is considered the premium Sony machine. The PS4 and Slim have identical processor specs, running off an AMD processor with eight Jaguar cores that are clocked at 1.6GHz. They also feature 8GB of GDDR5 RAM running at 176GB/s.
While the PS4 Pro is based on a similar processor, it is clocked faster at 2.1 GHz. It also features speedier RAM, despite there being the same quantity, with the 8GB of GDDR5 included capable of up to 218GB/s.
What this effectively means is that the processing abilities of the PlayStation 4 Pro are 1.3 times faster than either of the other consoles, with a RAM featuring 24% more bandwidth. The PS4 Pro also encompasses 4.20 Tflop of graphical power, ensuring that game developers will have significantly increased power over the existing Sony console platforms.
With Sony having already stated that all games released will run on each of the consoles, we can expect the PS4 Pro versions of games to be slicker and graphically superior. Developers can also use enhancements in the PS4 Pro to add further draw distances and detail to any virtual reality titles.
Storage
The size of the hard drive included with the PS4 Pro can perhaps be considered something of a disappointment, considering the large amount of space required for games intended for this system. Sony opted for a standard 1TB HDD for the latest model of the PS4, with many gamers calling for double this storage space.
Nonetheless, it is relatively inexpensive to upgrade the hard drive in the PS4 Pro, should anyone wish to do so. And Sony has ensured that it is particularly straightforward to charge the hard drive in the PS4 Pro and PS4 Slim, with a flap included at the side of each console in order for the device to be removed.
The original PS4 came with a 500GB HDD, as does the standard PS4 Slim, although Sony has now made 1TB models available for both consoles.
Design
The biggest evident difference between the PS4 and PS4 Slim is the physical appearance of the two consoles. The original console features an angular design, and is physically larger and heavier. The dimensions of the PS4 are 275 x 53 x 305mm, compared to the 265 x 39 x 288mm of the PS4 Slim. The Slim version of the console is also 700g lighter. The general consensus of opinion is that the new slimmer model is the more attractive of the two.
Naturally the extra power included in the PS4 Pro ensures that this console is significantly larger than either of its cousins. The sandwich-style design benefits from effectively an extra crust, leading to a larger overall size and weight which is almost 50% higher than the PS4 Slim. Thus, the PS4 Pro measures 295 x 55 x 327mm and weighs in at 3.3kg.
Both the PS4 Pro and PS4 Slim also feature a rounder design, while eliminating the gloss black section in favor of a new matte finish.
PS4 Pro vs PS4 Slim vs PS4
Part 2. How to Play iTunes movies or TV shows on PS4 Pro, PS4 Slim and PS4
PlayStation 4 Series have Media Player App, which is a free application you can download using your PlayStation game console, and you can use it to play videos, music and photos from a connected USB storage device. Many of the major file formats are supported, such as MKV, AVI, MPEG-2 and MP4.
Would you like to Play iTunes movies or TV shows on PS4 Pro, PS4 Slim and PS4? But as we all know Apple uses M4V to encode video files, such as TV episodes, movies, and music videos, in its iTunes Store. The copyright of M4V files may be protected by using Apple's FairPlay DRM copy protection. Due to DRM protection, we can't play iTunes movies or TV shows on PS4 Pro, PS4 Slim and PS4 easily. In order to slove the problem, M4V Converter Plus is highly recommended for you.
With it, you can convert iTunes movies, Rentals, TV shows and music videos to MP4, AVI and other common video formats. There are just three main steps to using M4V Converter Plus to convert iTunes videos to PS4 Pro, PS4 Slim and PS4. Firstly, free download, install and launch M4V Converter Plus on your PC. Here are the steps you need to follow.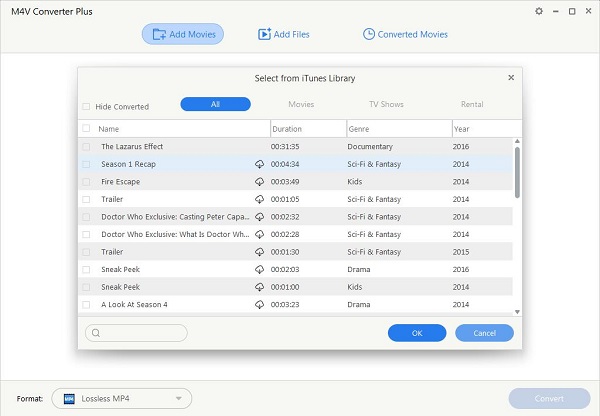 1. Click Add Movies button to choose iTunes movies or TV shows you want to play on your PS4, then click OK.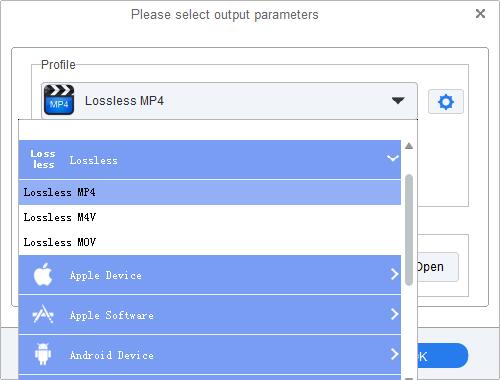 2. Choose a proper output format from the Profile blue panel.
PS4 Pro, PS4 Slim and PS4 support MP4, MKV, AVI. So we can set Lossless MP4 as the output format by default.
3. Click Profile to start the iTunes to PS4 series conversion.
Wait a moment, you can find the target files on Converted Movies folder. Now you have the right files. it's time to get them to your PlayStation 4. To get started, plug a USB drive into your computer. The drive must be formatted with either the exFAT or FAT32 file system. The video files can be in any folder, but they need to be in a folder and not on the root of the drive. Once you're done, you can safely remove the USB drive from your computer and plug it into one of the USB ports on your PlayStation 4 Series. Then launch the PS4 Media Player app and your USB drive will appear as an option. Select your USB drive, browse to the videos you want to play, and use the buttons on the controller to control playback. Now you can play your iTunes movies or TV shows on PS4 Pro, PS4 Slim and PS4 freely.
Related Topics