On last Saturday night in Hollywood, the Hong Kong-born action and comedy star, Jackie Chan received an honorary Oscar at the eighth annual Governors Awards, a moment of high spirits and inclusion for an industry in need of both this week.
"After 56 years in the film industry, making more than 200 films, breaking so many bones, finally this is mine," Chan said, "I want to thank you, Hong Kong, such an incredible city, my hometown, my hood, who make me. China, my country, I am proud to be Chinese. Thank you, Hollywood, for all of those years teaching me so many things, and also make me a little bit famous. I'm just honored to be here." holding his gold statuette at a podium at the Ray Dolby Ballroom.
Chan, 62, was honored alongside casting director Lynn Stalmaster, editor Anne V. Coates, and documentarian Frederick Wiseman, at an event that serves as a kind of opening bell of awards season.
"As you know, the Governors Awards are a chance for the Academy to recognize unique achievements across an artist's whole body of work," said Tom Hanks, a Governor in the Actors Branch along with Annette Bening and Laura Dern, 'and because Jackie Chan, the man who puts the 'Chan' in 'Chan-tastic,' because he has worked mostly in martial arts films and action comedies, two genres that have been for some reason, shall we say, historically underrepresented at the Oscars—a fact that will change if I have any pull on the Board of Governors, it is especially gratifying to be able to acknowledge Jackie's enormous creativity, his great gift for physical performance, and incredible dedication to his work with this Governors Award tonight."
Hanks went on to liken the actor, writer, director, producer, and more to John Wayne and Buster Keaton because of his dramatic and comedic abilities. He was followed by Michelle Yeoh, who worked with the "forever young" talent on Police Story 3: Supercop and recalled how competitive the pair were over stunts. Then came Chris Tucker, who quipped that the "living legend" tolerated his untimeliness on the Rush Hour sets—and that he made a lot of people rich.
Purchase or Rent Jackie Chan Movies from iTunes Store and Play Anywhere
Hong Kong's cheeky, lovable and best known film star, Jackie Chan endured many years of long, hard work and multiple injuries to establish international success via his early beginnings in Hong Kong's manic martial arts cinema industry. He has been acting since the 1960s and has appeared in over 200 films.
He has so many famous movies: Snake In The Eagle's Shadow (1978), Drunken Master (1978), Police Store (1985), The Protector (1985), Rumble In The Bronx (1995), Mr. Nice Guy (1997), Who Am I? (1998), Rush Hour (1998), The Accidental Spy (2001), Shanghai Knights (2003), The Myth (2005), The Spy next the door (2010), Chinese Zodiac (2012), etc. All of the movies will show that we love in a Jackie Chan film in different ways.
You can purchase or rent almost Jackie Chan popular movies from iTunes Store, then you can watch them on your iPhone, iPod touch, iPad, Apple TV and iTunes on Mac and Windows. To play Jackie Chan iTunes movie anywhere, you can ask M4V Converter Plus for help. It is one of the best iTunes Movie Converter, which can not only convert iTunes purchased movies to unprotected MP4, MOV, but also can convert iTunes Rentals so that you can keep it for longer time. Jackie Chan is one of the best actor in our time, so his movies are worth of collection. M4V Converter Plus also allows iTunes users to convert iTunes M4V to VOB for burning to DVD. The program has a very simple user interface, you can finish the iTunes movies conversion just in three steps. Firstly free download it on your computer before getting started.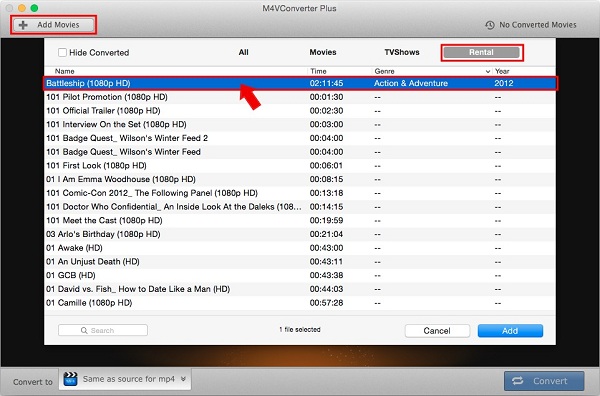 Step 1. Install and launch the program on your Mac (Windows). Click Add Movies to import the purchased or rented movies to it.
Step 2. Select output format from Convert to drop-down list. Here you can choose Same as source for mp4/mov, Customize WMV/VOB/MP4/MP3/AAC, etc.
Step 3. Remove DRM and Convert purchased or rented Jackie Chan iTunes movies.
Note: M4V Converter Plus can support converting iTunes purchased movies, iTunes Rentals, TV shows, iTunes Extras (Mac version) and music videos in batches.
After conversion, you can find the converted files in the Converted Movies folder. Now you can play the movies anywhere.
Watch iTunes Movies on Popular Devices