Apple Inc. launched the iPhone 7 and iPhone 7 Plus in the United States, and 10+ other markets. The handsets already went up for pre-order late last week. And we can now compare its feature set with that of its nemesis: the Samsung Galaxy S7. Apple's brand-new iPhone 7 vs Samsung's Galaxy S7: which is better smartphone to buy?
Samsung has a five-month head start on Apple, having introduced its latest flagship the Galaxy S7 back in April. Apple has just had its iPhone launch, with its usual hype and controversy, and the new iPhone 7 features some radical design changes. Let's compare the two smartphones in detail.
iPhone 7 vs Samsung Galaxy S7: Design
The two devices now look very different (Samsung's designs seem to have departed a little from Apple's since the firms' lengthy court case). The Samsung S7 is a smart handset with a hefty feel. The iPhone 7 looks very much like the iPhone 6 and 6s. There is no radical redesign, although the lines are slightly cleaner: Apple has integrated the antenna into the body of the device and removed the headphone jack.
Both phones are largely similar from the front. Both feature a large screen, and a single button at the bottom to interact with the home screen. On the left side of both devices are volume rockers, on the right sits a Sleep/Wake button. The Samsung S7 is a little larger, heavier and has a slightly bigger screen. Both have extremely powerful processors, although Samsung's is admittedly more powerful. But Apple has shown remarkable ability to get performance out of its system. We'd expect them to be comparable in benchmark testing.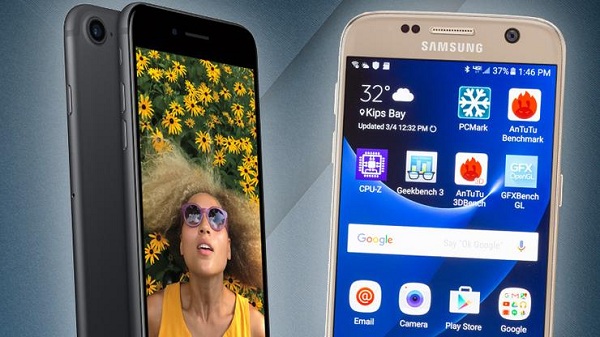 iPhone 7 vs Samsung Galaxy S7: Camera
Samsung's camera tech is pretty impressive and capable, while also being extremely easy to use and get good results for even the most inexperienced and non-camera-savvy users. It features a 12MP sensor with an f/1.7 aperture size, an optical image stabilisation (OIS) module, dual-LED two-tone flash, and Samsung's amazing dual-pixel phase detection autofocus.
It remains to be seen how well Apple's camera tech performs, but this is where the most advanced changes on the iPhone 7 series have taken place. The standard iPhone 7 model features a 12MP sensor with an f/1.8 aperture, OIS, an updated 6-element lens, a quad-LED TrueTone LED flash with flicker sensor (for capture in artificial lighting), and a new image signal processor. For the larger iPhone 7 Plus model things get even more involved as it has two 12MP sensors in a dual-sensor setup; one sensor has a telephoto lens and the other a wide-angle lens; combining all the image data for a much more detailed image as standard, but also allowing for a x2 optical zoom and 10x software zoom, and Bokeh depth-of-field effects.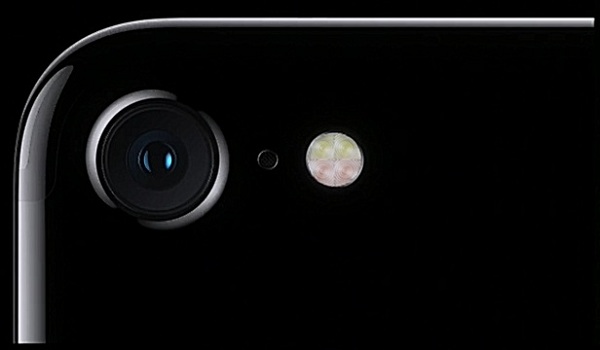 iPhone 7 vs Samsung Galaxy S7: Battery
The Samsung Galaxy S7 features a non-removable lithium-ion battery, with a cell capacity of 3,000mAh. That results in a talk time of 22 hours, and 62 hours of music playback.
The iPhone 7 also features a non-removable battery, although the exact specifications aren't clear at this point. What Apple does say is that the iPhone 7 will last two hours longer than the iPhone 6S, so it's a decent but not life changing upgrade.
iPhone 7 vs Samsung Galaxy S7: Pricing
On Amazon, the price of the Samsung Galaxy S7 ranges between £475 and £519, depending on the colour you opt for. It's been available to buy since 11 March 2016.
The iPhone 7 is now available for pre-order, and goes on sale from September 16. The standard iPhone 7 starts at £599, rising to £699 for the 128GB model and £799 for the 256GB model. The iPhone 7 Plus, meanwhile, costs £719 for the 32GB version, £819 for the 128GB model, and £919 for the top-end 256GB variant.
This means that the Galaxy S7 is significantly cheaper than the iPhone 7, even when you consider the Samsung flagship's £569 launch price.
Conclusion
The Samsung Galaxy S7 offers faster internal components, at a slightly lower price. But the iPhone 7 is a better-looking and more interesting device thanks to its Force Touch home button and twin-speakers. The removal of the headphone jack is going to remain controversial. Ultimately, it falls down to software and we prefer the iOS operating system and its apps. See the following table for comparison between iPhone 7 and Galaxy S7 to decide which smartphone to buy.
iPhone 7 vs Samsung Galaxy S7

| | | |
| --- | --- | --- |
| | iPhone 7 | Samsung Galaxy S7 |
| Build material | Series 7000 aluminium chassis, IP67 certified | Metallic chassis with glass back, IP 68 Certified |
| Dimensions | 138.3 x 67.1 x 7.1 mm | 142.4 x 69.6 x 7.9 mm |
| Weigh(g) | 138 | 152 |
| Display | 4.7-inch Retina HD, 3D Touch | 5.1 inch Super AMOLED, Always-On Display |
| Resolution | (1334 x 750) (577 ppi) | (2560 x 1440) (577 ppi) |
| Speakers | Stereo Speakers | Mono bottom speaker |
| Chipset | A10 Fusion with M10 motion co-pocessor, Quad-core | Exynos 8890 | Snapdragon 820 |
| GPU | 6-core PowerVR GPU | Octa-core | Quad-cora |
| RAM | 2GB LPDDR4 | 4GB LPDDR4 |
| Storage | 32/128/256GB | 32GB (MicroSD Card slot with fupport for up to 256GB) |
| Camera | 12MP(7MP front) | 12MP (5MP front with wide-angle lens) |
| aperture | F 1.8 | F 1.7 |
| Battery | 1960 mAh | 3000 mAh |
| Colors | Silver, Gold, Space Gray, Rose Gold, Black, Jet Black | Onyx Black, Silver Titanium, Gold Platinum, Pink Gold |
| System | iOS 10 | Android 6.0.1 Marshmallow |
| MicroSD | N | Y |
| Price | From $649 | From $569 |
Related Topics