Apple's latest upgrade to iOS is packed with useful features that will give your iPhone or iPad a much-needed refresh. But if you're still not sure \ whether to take the plunge, here's a look at some of our favorites and how to find them.
Raise to wake
The first thing you'll notice when you pick up your phone is that the lock screen turns on without your even touching the home button. The new raise-to-wake feature uses the M9 co-processor on the iPhone 6S and 6S Plus to detect motion so you can check the time and notifications on the fly. To turn off the feature, go the "Display and brightness" option in the Settings page, and click on the raise-to-wake switch.
Quick camera launch
Launching the camera app from your lockscreen is even faster in iOS 10. Just swipe left from the main page to capture that candid shot.
Sort photos by faces and places
The photo app in iOS 10 automatically sorts through your endless reel and organizes your shots based on places and people in the Albums tab. Or you can really narrow down your search by date, place or person using the search feature at the top of this page. To assign a name to a face, just click on a picture where that person appears, press Details, People and Add name at the top.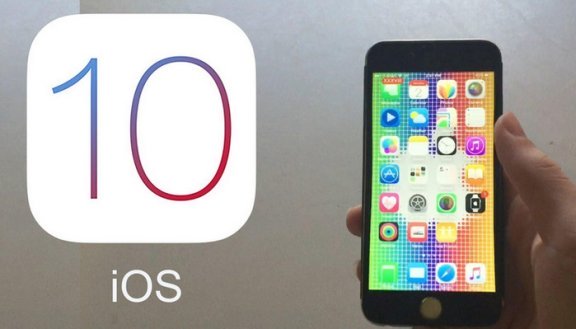 Hide stock apps
Apple finally lets you get rid of those useless apps cluttering your home screen in iOS 10. Delete as you would any other app: Press and hold on the app icon until it begins to shake and hit the X to remove. This won't get rid of the app for good, but at least it will remain hidden until you redownload in the App store.
3D-touch Control Center
Apple doesn't let you customize your Control Center yet, but at least you'll have more shortcuts to chose from on this screen. If you have an iPhone 6S or 6S Plus you can 3D-touch the icons at the bottom to pull up a new list of options without leaving the page, or slide left to access the music remote.
Voice mail transcription
Next time you get a missed call from an unknown number, don't bother listening to the voice mail. iOS 10 gives you a full transcription of the message directly from your Voicemail tab in the phone app. Click on the name or number in this screen to open the transcription and share it as an email or text from the share icon at the top. The transcription is not perfect, and it's only available in English at the time this article was written.
Bilingual keyboard
If you type in more than one language, chances are this feature will save you from an autocorrect nightmare. Once you've installed the keyboard languages you want in the Settings, the Messages app will automatically detect which one you are typing to save you from having to switch manually from the globe icon.
Live links in messages
Another practical feature in the Messages app that lets you preview a link without leaving the chat window. Paste the URL in the chat bubble and send. The app automatically renders a thumbnail preview with the title, or the full video player if it's a YouTube link.
Use Siri with third-party apps
Voice control has become much more useful in iOS 10 now that Siri can control more than just Apple's own apps. Some of the third-party apps with Siri integration at launch include Square Cash, WhatsApp, Pinterest and LinkedIn.
Lyrics!
If you're a sucker for singalongs, Apple music now lets you belt out your favorite Adele song right from the app. Start playing the song, click on the song bar at the bottom to maximize and scroll down until you see the lyrics. Not all songs have this option at the time we wrote this article.
Conclusion
These are our favorite features coming to your iPhone or iPad with Apple's latest iOS update. Note: if you have an iPhone 5 or iPhone 5C, please skip the update. Even though iOS 10 is technically compatible with these older devices, we recommend taking a wait-and-see approach before updating your phone.
Note: M4V Converter Plus enables you to play iTunes movies, TV shows and music videos on iPhone 6, iPhone 6s Plus and iPhone 7 at will. And we will supply the latest technology information for you. Please continue to pay attention to us.
Related Topics