Mac OS is the trademarked name for a series of graphical user interface-based operating systems developed by Apple Inc. (formerly Apple Computer, Inc.) for their Macintosh line of computer systems. The Macintosh user experience is credited with popularizing the graphical user interface.
M4V is the MPEG-4 file extension used for videos download from Apple iTunes store, including music videos, TV episodes, and full-length movie. It is basically a .mp4 file with the attached DRM and can be renamed to MP4 file extension.
Mac M4V Converter is necessary
To play a protected M4V file, your computer must be authorized (using iTunes) with the account that was used to purchase the video. So let Mac M4V Converter help you. All the things get simple.
The best choice of Mac M4V Converter - M4V Converter Plus
M4V Converter Plus is a powerful and professional Mac M4V converter, it can convert M4V to MP4, MOV or unprotected M4V format perfectly. You can finish the conversion process with few clicks, this makes M4V conversion routine very simple. Also, it almost has no loss of the quality of your M4V video.
Key features of M4V Converter PLus
Support Mac Intel users and Mac PowerPC users.
The M4V converter Mac was designed just for Mac Intel users and Mac PowerPC users.
Support any iTunes M4V
This Mac M4V Converter is very powerful, it can convert any video files played on iTunes, even the purchased movies and iTunes movie rentals from iTunes Store.
Customize for your own devices
As a powerful m4v converter tool, there are several output formats to select, just according to the need.
You can convert m4v video to MOV as the same quality. You can also select to convert M4V for iPod, iPhone. After select a pre-defined output format, just click "Convert" button to start converting.
Batch Conversion.
What you need to do, is just to create a batch list of m4v video from iTunes' library, and convert them all to selected format. .
Easy to use and high quality
The user interface is concise, every button you can find quickly and use easily. To start conversion, only a few mouse click needed.
Simple Guide to how to use Mac M4V Converter
Step 1: Download the Mac M4V Converter, install and run it.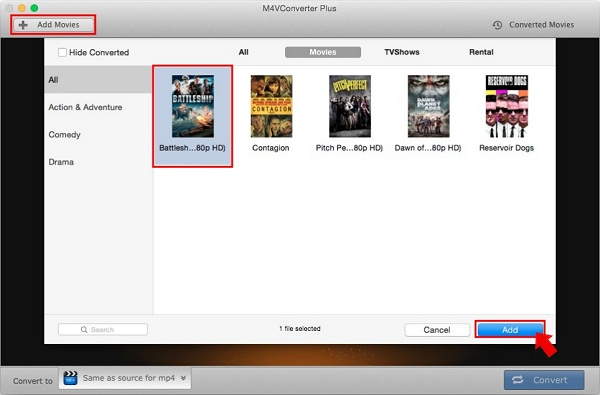 Step 2: Add M4V videos to the converter.
Click "Add Movies" button to add the M4V files from your iTunes playlist. The software will open the iTunes movies library by default. Select the files and click "Add".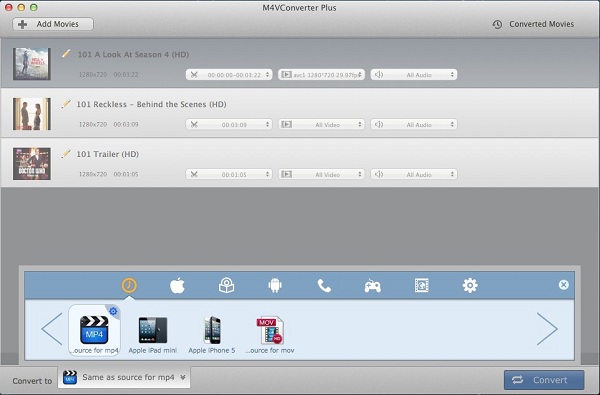 Step 3: Set output format.
Next, click the "Convert to" at the bottom to choose right output format. You can see M4V Converter Plus supports various formats such as MP4, MOV, WMA, WMV, AAC, VOB, etc.
Step 4: Start conversion.
After all the above steps, you can click "Convert" button to start conversion.
Related Topics