I purchased videos on iTunes, but I can't play them on my video player, because they are in some protected M4V format that only works on iPods. How can I convert iTunes M4V videos to MOV or MP4 format so I can play them on my portable video device?
If you have run into this problem, I like to recommend a M4V to MOV converter to help you. Called M4V Converter Plus. With it, you may convert M4V to unprotected M4V format and play the movies on your portable device.
Part 1. What are MOV files
The .MOV file format is a MPEG 4 video format first released in 1998 and is used in Apple's Quicktime program, which is a media player similar to Windows Media Player. Like WMV (Windows Media Video) the .MOV format is only connected with Quicktime.
The MOV file extension normally represents a QuickTime multimedia file. QuickTime is a movie/video/multimedia format developed by Apple and is often used in websites, mostly for streaming audio or video.
The QuickTime (.MOV ) file format functions as a multimedia container file that contains one or more tracks, each of which stores a particular type of data: audio, video, effects, or text (e.g. for subtitles). Each track either contains a digitally - encoded media stream (using a specific codec) or a data reference to the media stream located in another file.
It is easy to play MOV videos. You can use VLC player from Video Lan and QuickTime Player which allows Mac and Windows users to view QuickTime multimedia either inside or outside of their web browser.
Part 2. How to convert M4V to MOV video on Mac
Step 1: Get the new M4V to MOV Converter by clicking Download button, install and run it.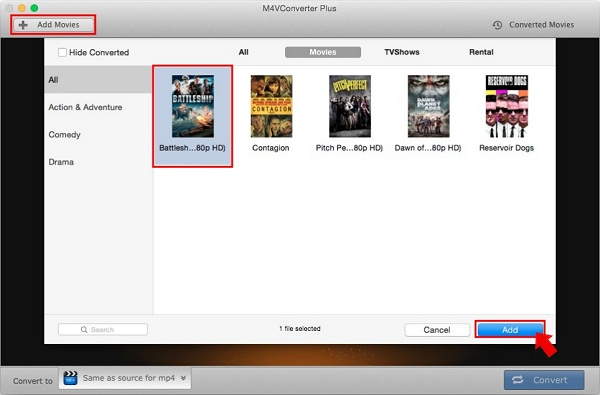 Step 2: Add M4V videos.
Click the "Add Movies" button in the top-left to add the video files you want to convert. The software will open the iTunes movies library by default. Select the files and click "Add".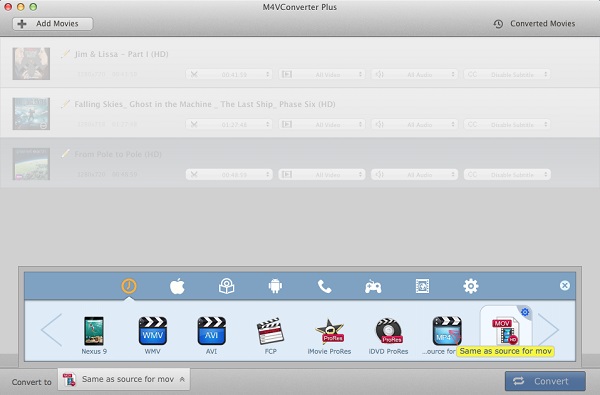 Step 3: Set MOV as output format.
Next, click the "Convert to" at the bottom of the format selection window. Just choose "Same as source for mov". If you want to change the codec, resolution, frame rate and other video settings, you can click the settings icon.
Step 4: Start to convert M4V to MOV.
Finally, click the "Convert" button at the bottom right corner to start M4V to MOV conversion.
You can check your videos converted by hitting "Converted Movies" after conversion.
Related Topics