DRM, is short for Digital Right Management, which was introduced some time ago. And it is very famous, for some big brands are using it to 'protect the rights, preventing the illegal copying. As you can see, most videos purchased online are DRM-protected, which restricted you to watch your favorite video clips to certain devices. Nevertheless, all these years of inventing, the most remarkable achievement for 'DRM' was really limited the usage of the media files to the customers.
Take iTunes as an example, as the biggest online music retailer, or even the biggest music retailer in the world, is still selling 90% of the media files as DRM protected. Therefore, you can only play the music in the specific music players, like iPod, iPhone, the very luxury music player from Apple itself. However, what if you accidently bought some other mp3 player, such as: 'Creative Zen', 'iRiver', 'PSP' or 'zune'? Sorry, you can't play it!
What benefit you can get from a DRM Media Converter
Imagine that, when you use a DRM media converter to remove the DRM from the protected movies, you can enjoy them freely. There are no limitations, too.
Acting as a DRM removal, DRM media converter is able to convert protected M4V etc. to unprotected MOV, MP4, M4V, MP3 etc. for every device. It is not only a M4V converter but also a DRM removal usually, which convert both protected video clips from both Apple iTunes store.
So which conversion program can get the goal? Try M4V Converter Plus, most people feel it good, after they used it.
Powerful DRM Media Converter - M4V Converter Plus
M4V Converter Plus is a powerful DRM Converter and DRM Removal software to remove DRM copy-protection from video and music downloaded with high quality, as well as unprotected plain media.
This DRM Media Converter is also capable of converting itunes rented video files. As you know, iTunes M4V rentals can only play on 1 device. These M4V movie are protected by DRM. You could not play them on your own mobile devices other than Apple devices. So with the M4V Converter Plus help, drm removal gets so easy. And the converted movies can be played freely.
Step-by-step guide
Make sure you have download the latest version of the DRM media Converter and install it on your Mac.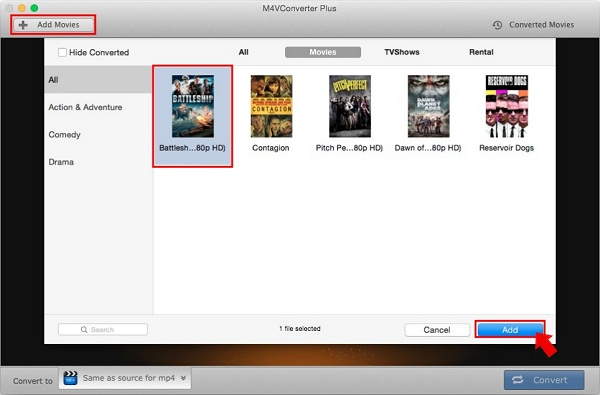 1. Import files.
You can launch the DRM media Converter. Click Add Movie, browse to the M4V videos from iTunes playlist. Single-clicking on the iTunes videos. And Click Add, all selected files will be added to the main window.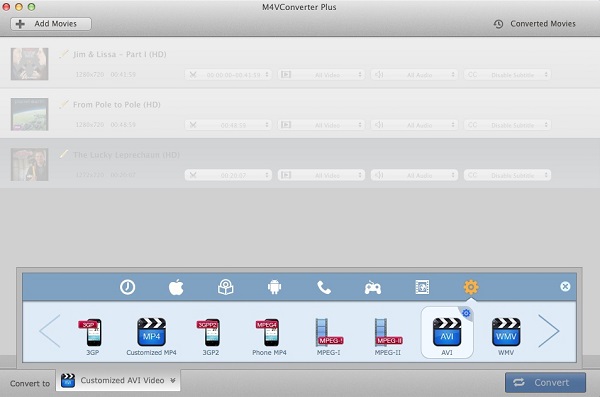 2. Set output format.
There are many format options to choose. Such as convert DRM M4V to MP4, MOV, AVI, WMV, FLV and you can also choose devices you own.
3. Start iTunes DRM media conversion.
Related Topics