QuickTime is a proprietary multimedia framework developed by Apple, capable of handling various formats of digital video, media clips, sound, text, animation, music, and interactive panoramic images. It is available for Mac OS classic (System 7 onwards), Mac OS X and Microsoft Windows operating systems.
The QuickTime (.mov) file format functions as a multimedia container file that contains one or more tracks, each of which stores a particular type of data: audio, video, effects, or text (e.g. for subtitles).
Each track either contains a digitally-encoded media stream (using a specific codec) or a data reference to the media stream located in another file. Tracks are maintained in a hierarchical data structure consisting of objects called atoms.
Why need convert to M4V to QuickTime MOV?
M4V files are iTunes Video Files. The M4V file format is a standard file format for videos for iPods and PlayStation Portables developed by Apple.
M4V files are opened with iTunes player by default. The copyright of M4V files may be protected by using Apple's FairPlay DRM copyright protection. To play a protected M4V file, the computer needs to be authorized (using iTunes) with the account that was used to purchase the video.
MOV is the video format of Quick time. It is an audio and video format developed by Apple, commonly used for storing digital media types, such as audio and video. When you select QuickTime (*. mov) as a "Save as type", the animation will be saved as. MOV file.
MOV is a popular video format, what is important, MOV has no DRM protection. There is no limitations about playing them. So conversion from M4V to MOV is necessary.
Powerful iTunes M4V to QuickTime MOV Converter - M4V Converter Plus
Want to easily and quickly convert iTunes M4V to QuickTime MOV? Let M4V Converter Plus help you.
M4V Converter Plus is a professional M4V video to unprotected QuickTime MOV format converter. It can convert almost all video formats could be played on your iTunes, includes DRM M4V your purchased or iTunes movies rentals.
With its very easy-to-use interface, it makes M4V to QuickTime conversion routine so simple as 1-2-3. After a short conversion process you can enjoy the video on QuickTime freely.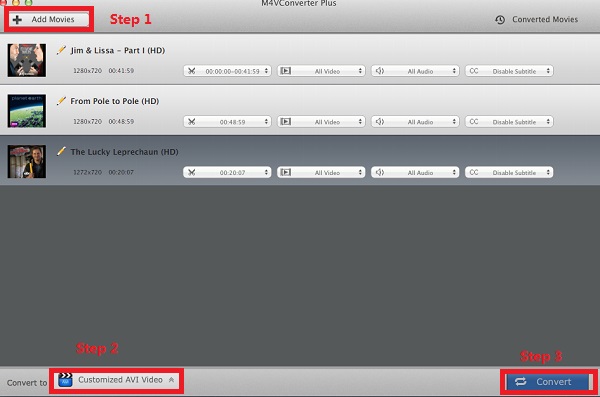 Key Features of M4V Converter Plus
Support converting any iTunes protected M4V files, including iTunes videos purchases & rentals.
Customized settings about the converted video files.
Very fast Conversion speed and without any quality loss.
Very User-friendly interface.
Related Topics