About M4V
The M4V file format is a video container format developed by Apple. Apple uses M4V to encode video files, such as TV episodes, movies, and music videos, in its iTunes Store. The copyright of M4V files may be protected by using Apple's FairPlay DRM copy protection. To play a protected M4V file, the computer needs to be authorized (using iTunes) with the account that was used to purchase the video. MPEG-4 is a multimedia container format. It is most commonly used to store digital audio and digital video streams, but can also be used to store other data such as subtitles and still images. The official filename extension for MPEG-4 *.mp4, thus the container format is often referred to simply as MP4.
Why we need M4V Video Converter
Due to Apple's FairPlay DRM copy protection, you can only play them on iTunes, iPod, iPhone and Apple TV. And there are limitation of playing on 5 devices. It's really unfair if you have paid for the videos but you can't play them on your PSP, Zune or other non-apple devices. Don't worry, M4V Converter Plus comes to help you. With it, you have no need in view of the limitations of playing on 5 devices.
M4V Converter Plus is a professional DRM M4V Video Converter which can convert M4V you purchased to QuickTime MOV, iPod, iPhone format in high speed and great quality. It has been designed for converting DRM M4V. It can also convert any video on your iTunes library.
This DRM M4V Video Converter supports batch conversion, so you can convert many M4V files with just some clicks and save much time, and with the M4V video converter, you can also customize M4V conversion by setting resolution, frame rate, bit rate, etc.
How to convert M4V video files to iPod
iPod is a brand of portable media players designed and marketed by Apple Inc. M4V, MPEG-4 file extension used for videos downloaded from the Apple iTunes store; includes TV episodes, full-length movies, and music videos; similar to an .MP4 file, but may be copy-protected using Apple's FairPlay DRM copyright protection.
With M4V Video Converter Plus, you can convert the M4V video files to iPod. The following is the step-by-step guide to how to.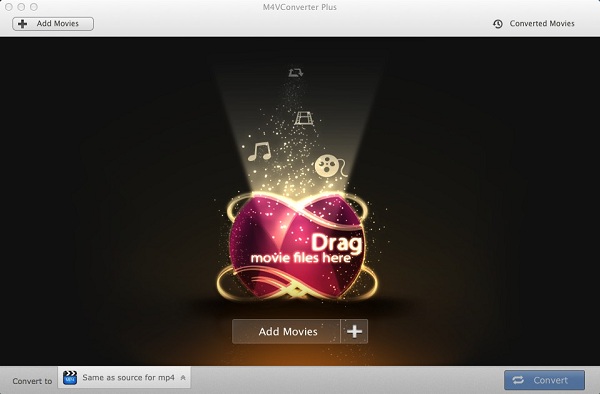 Step 1: Free download this M4V Video Converter. Install and launch this M4V Converter.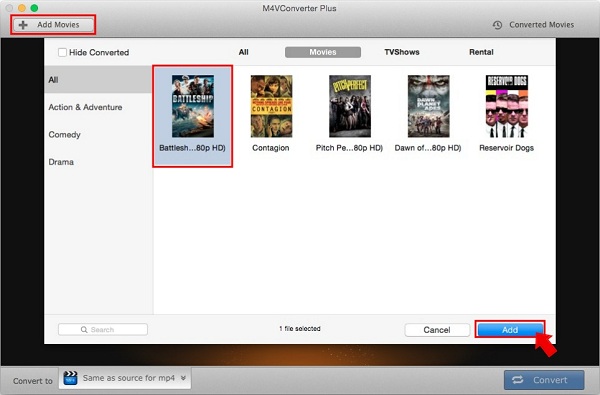 Step 2: Click Add Movies button, search M4V videos according name and choose the videos you want to convert, click Add button.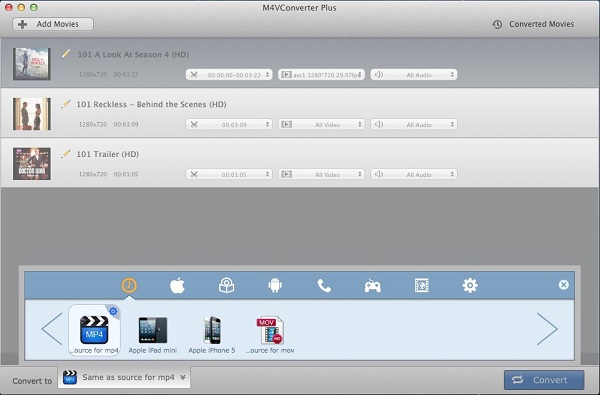 Step 3: Customize output settings as default. Click Convert to profile and choose Same as source for mp4. Or select Apple iPod Touch from Apple Device option.
Step 4: Press Convert button or click the menu Control -> Start Converting, the conversion progress will begin automatically.
Step 5: When converting complete, you can select one of these video files from Converted Movies, and then play it to view video effects whether it is satisfied, if not, you can re-customize.
As a powerful and professional M4V converter, M4V Converter Plus is easy to use, fast in speed and excellent in quality. M4V Video Converter Plus is the best DRM removal software to remove DRM from M4V and other videos bought from iTunes or other online music retailer. So you can enjoy the converted video files anywhere freely. Why not free download and enjoy it right now?
Related Topics