The M4V file format is a video container format developed by Apple and is very similar to the MP4 format. Apple uses M4V to encode video files, such as TV episodes, movies, and music videos, in its iTunes Store. The copyright of M4V files may be protected by using Apple's FairPlay DRM copy protection. To play a protected M4V file, the computer needs to be authorized (using iTunes) with the account that was used to purchase the video. The protected M4V file can only be played on iPhone, iPad, iPod and Apple TV. If you want to play iTunes M4V files freely, you can convert M4V to MP4 and other unprotected video formats.
M4V Converter Plus, as a professional M4V to MP4 Converter, can convert M4V to MP4 and other video files with excellent images and sound quality.
This M4V to MP4 Converter legally converts DRM copy-protected video files in format like DRM-protected M4V into unprotected M4V, MOV, MP4 files by recording them while they are being played. Free download the M4V to MP4 Converter to complete the format conversion easily from now.
Steps to convert your iTunes DRM M4V videos to MP4 format easily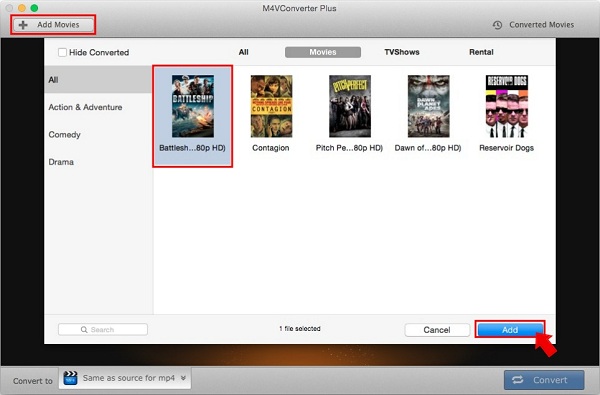 Step 1: Import iTunes M4V videos to the program.
Install and run the M4V to MP4 converter on your Mac. Then click Add Movies button, search your DRM M4V files according name, then select the files, click Add button.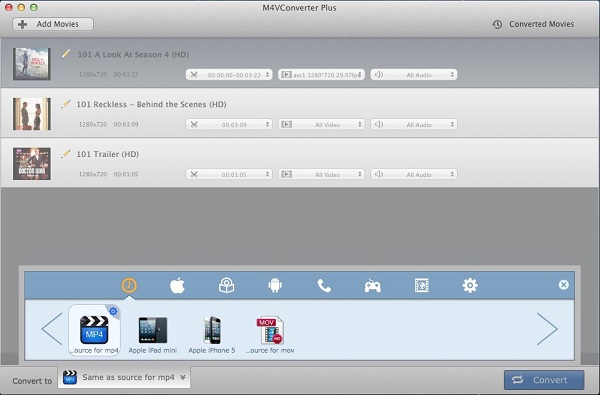 Step 2: Select output format and output folder.
To choose a proper output formaty, you can select Same as source for mp4 from the Convert to profile drop-down list.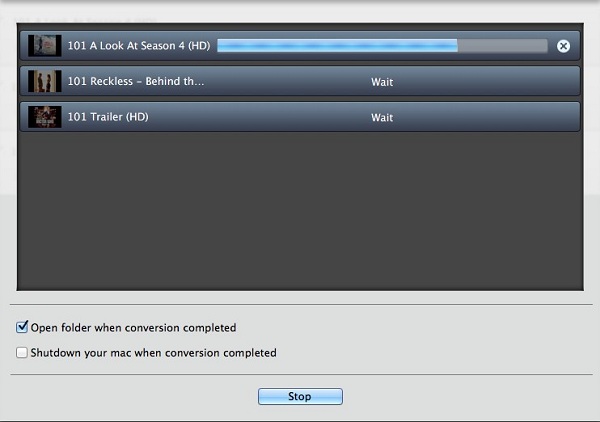 Step 3: Start M4V to MP4 Converting.
Click Convert button or click the menu Control->Start Converting to start the converting, and now the converting process begins.
Basic knowledge about M4V and MP4
M4V
.m4v - .mp4 files with the WRONG extension introduced by Apple for video / audio files, .m4v can be safely renamed to .mp4 (.m4v is used in Apple iTunes and iPod).
MP4
Just like MP3s work by compressing music and audio files without affecting the audio quality, MP4 files are compressed video files. MP4 is also known as MPEG-4 AVC, or advanced video coding. This new technology is going to make video files decrease in size so that they are easier to work with and support. What used to be massive video files of motion and audio are now compressed versions of the same material, called MP4s.
Related Topics