iTunes Movie Rental gets more and more popular, you can pay little money to watch a good movie. It is awesome!
However, once you begin watching, you have 24 hours to watch the film as many times as you want, or after downloading a movie rental you have up to 30 days to start watching the movie. You can rent movies from iTunes and watch them with your Mac or Windows computer, iPhone, or a supported video-enabled iPod, or on your TV using your Apple TV. You can't enjoy them anytime and anywhere with these limitations. The following article mainly tells how to use iTunes Movie rental to remove DRM protection from iTunes rented movies so that you can play them freely.
Why need iTunes movies rental converter? From the apple website, you can know the iTunes Store movie rental usage rules are a great many (You can know the detailed info in the Vii). The limitations are too much, not to say, you want to play it on other mobile players. But M4V Converter Plus can help you. It is a professional iTunes Movie Rental Converter, it can convert any movies rent from iTunes store to unprotected MOV, M4V, MP4 formats.
Key Features of M4V Converter Plus
M4V Converter Plus is a powerful iTunes Movie Rental Converter that can convert iTunes purchased movies, Rentals, TV shows and music videos.
It can remove DRM protection legally so that you can keep iTunes Rentals for longer time than limited.
It can help you import any iTunes videos by using various way. And you can also trim the added videos into small segments as you need.
It can not only convert iTunes videos to unprotected video formats like MOV, MP4, but also can convert iTunes videos to iPhone, iPad, Android phone, etc.
It is an easy-to-use tool, you can finish the conversion at 30X faster speed with 100% original quality
How to Rent Movies from iTunes Store on your computer
Apple has once again pushed forward the digital entertainment marketplace with its iTunes Movie Rental service. Though it's not perfect, after having used Apple's iTunes Movie Rental service a couple of times in the week since it was unveiled, I'd say that this is the best offering of its kind to date and may point the way to how we'll get our movies in the future.
The iTunes Video Rentals service works just about as smoothly as all the other services you've come to expect from the iTunes Store.
How to rent movies from the iTunes Store on your computer?
1. In iTunes on your computer, click iTunes Store.
2. In the iTunes Store, find a movie you want to rent.
3. Click Rent. Your movie will begin to download immediately.
Once the movie is downloaded, you can watch it on your computer or transfer the rental to a supported iPod, iPhone, or Apple TV:
1. Connect the device and select it in iTunes.
2. Click the Movies tab (for iPod), or the Videos tab (iPhone or Apple TV)
3. Select the movie, and then click.
4. After all movies have been moved, click "Apply" in the lower right corner of iTunes.
You must be connected to the Internet to transfer a rented movie.
How to Remove DRM and Convert iTunes rented movies Easily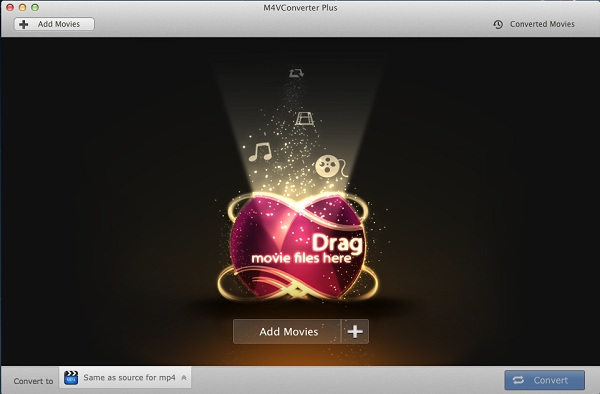 Step 1. Firstly, you need to download, install and launch the iTunes Rental Converter on your Mac. You can find the distinct user interface.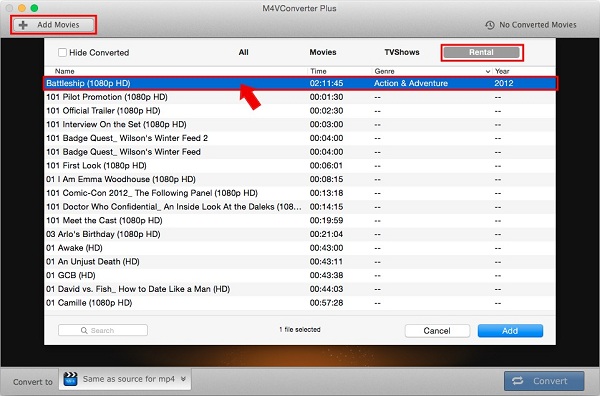 Step 2. Import iTunes rented movies to the program.
Click the Add Movies button to the software. You will find Movies, TV Shows and Rental sections. Turn Rental panel and select iTunes rented movies you want to convert. You can also add the Rentals in batch.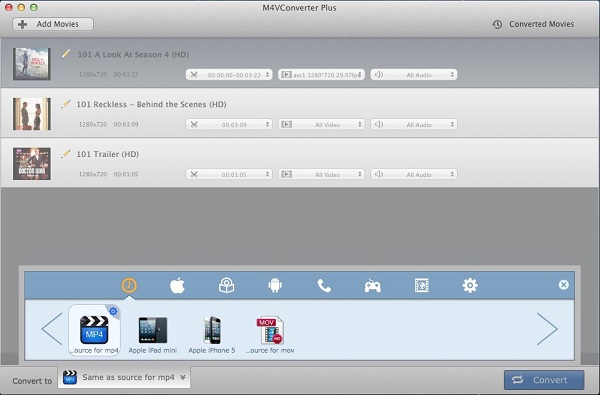 Step 3. Set the output format.
Click Convert to profile list, you can set MP4, MOV, WMV, AVI and other video formats as output files.
Step 4. Click Convert button to start iTunes Rentals conversion.
The iTunes Store movie rental usage rules are as follows:
You have 30 days to watch the movie after the download completes. You can start watching the movie while it is still downloading.
Once you've started to watch the movie, you have 24 hours to finish watching the movie (even if you start watching before the download is complete). You can watch the movie as many times as you want within this 24-hour period.
The rented movie will expire when either the 30 day or 24-hour limit is reached. Once the rental expires, the movie is automatically deleted. You must re-rent and download the movie to view it after your rented movie has expired.
You can move the movie between devices as many times as you wish during the rental period, but the movie can only be played on one device at a time. If you rent the movie on your Apple TV, it is not transferable to any other device and you must watch it on your Apple TV.
On your device, the time remaining for you to finish watching the movie appears near the movie title.
You can only play your rented movies on the computer you rented it from and only if it is authorized to play your iTunes Store purchases and rentals.
Related Topics