YouTube is a video-sharing website. The site allows users to upload, view, and share videos, and it makes use of Adobe Flash Video and HTML5 technology to display a wide variety of user-generated and corporate media video. You can find the available content includes video clips, TV clips, music videos, and other content such as video blogging, short original videos, and educational videos. Unregistered users can watch videos, and registered users can upload videos to their channels.
Lots of people benefit more from YouTube to find the helpful clips or share their wonderful videos. iTunes Store provides a lot of sources. If you have some iTunes videos purchased or rented from iTunes Store to share, it will be hot and eager to watch and download. You will give benefits to more people.
And with M4V Converter Plus, you can convert your iTunes videos without DRM protection to use and transfer free. You can set the YouTube video format for iTunes video. So when you upload iTunes videos to YouTube, the others can view and download the iTunes videos successfully.
Steps to convert iTunes video suitable for YouTube
Step 1. Download M4V Converter Plus, install and run on your Mac.
Step 2. Add iTunes video to M4V Converter Plus.
Click Add Movies button and choose a video listed in the pop-up window. Then click Add.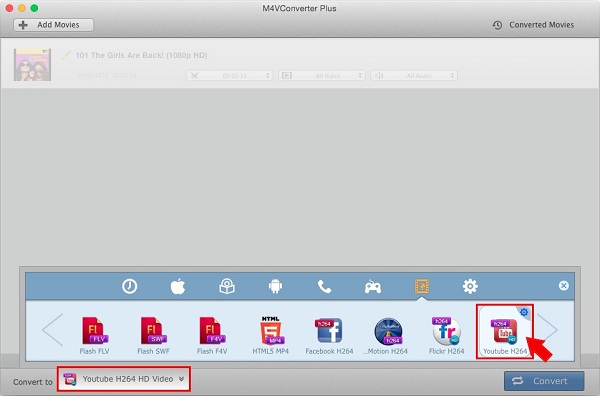 Step 3. Choose the YouTube video format.
Click Convert to drop-down list and choose YouTube H264 HD Video as the output format.
Step 4. Start conversion on Mac
Click Convert button to open the converting box and start converting.
After converting is done, you can find the output in the history list. With M4V Converter Plus, you can get the output with YouTube video format without DRM protection. Then you can upload iTunes video to YouTube. Followed by your fans, you may enjoy becoming one of them and share your more iTunes videos.
Related Topics