You may encounter the problem such as: "I just downloaded some music videos from iTunes and to my dismay, they're in the DRM-Protected.m4v format. How do I go about ripping these videos to unprotected ones? How to remove their DRM? What programs are available and how do I use them?"
In order to convert protected m4v videos, you need a DRM removal tool. M4V Converter Plus is the right and best choice about DRM M4V converter. It can support converting iTunes any video, even DRM protected files, to unprotected MOV, MP4 or M4V playable on QuickTime, iPod, iPod Touch / iPhone. The converting process is very easy, just a few clicks of mouse.
M4V Converter Plus is a powerful DRM M4V converter which can free your iTunes video files from DRM protections legally at high speed with high output quality. It can not only remove DRM protection from your video files, but also extract audio file from M4V video files.
Supported Input Formats: any proteced videos from your iTunes library.
Supported Output Formats: unprotected MOV, M4V for iPod, iPhone / iPod Touch, Apple TV, MP4, MP3, AAC and so on.
DRM M4V Converter for your iPod, iPhone / iPod Touch, Apple TV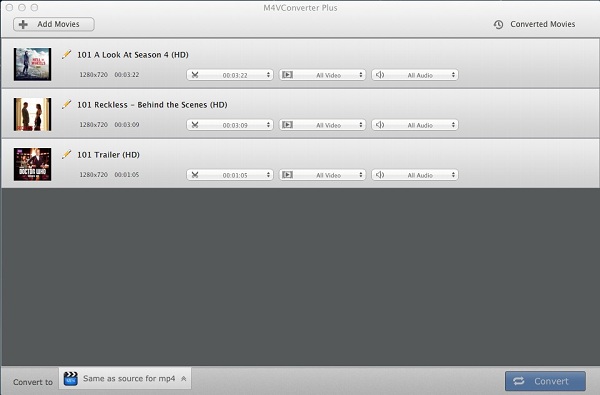 M4V is the common but non-standard use of the MPEG-4 file extensions. It is due to the popularity of Apple's iPod and the iTunes Store. MPEG-4 is a multimedia container format. It is most commonly used to store digital audio and digital video streams, but can also be used to store other data such as subtitles and still images. The official filename extension for MPEG-4 *.mp4, thus the container format is often referred to simply as MP4.
With M4V Converter, you can convert M4V to unprotected MOV, M4V, MP4 that can be displayed on common device.
What is M4V?
M4V is the MPEG-4 file extension used for videos download from Apple iTunes store, including music videos, TV episodes, and full-length movie. It is basically a .mp4 file with the attached DRM and can be renamed to MP4 file extension.
To play a protected M4V file, your computer must be authorized (using iTunes) with the account that was used to purchase the video.
Unprotected M4V files may be recognized and played by other video players by changing the file extension from ".m4v" to "mp4".
Mac OS Program(s) that open m4v files
Apple iTunes
QuickTime Player
iPod
RealNetworks RealPlayer
Miro
Related Topics