In the early days of video streaming services, your choice was simple: Get Netflix. It's more complicated now, there are various tv and movies streaming service for you, such as Amazon Prime, iTunes, Google Play and Hulu.
Not all streaming services are created equally. A lot have overlapping libraries, but many vary wildly in price, quality and availability on the devices you use. There are now so many streaming services out there, which should you choose? Here's our rundown of what you can expect from the major streaming services.
Netflix offers a wide selection of movies and TV shows, with several series being exclusive to the platform or even made and funded by Netflix itself.
Original series: House of Cards, Orange is the New Black, Daredevil and Jessica Jones.
Original films: The Ridiculous 6, Special Correspondents, Beasts of No Nation.
Will occasionally get recent blockbusters.
Price
£5.99 for one stream in standard definition.
£7.49 for two screens simultaneously in HD.
£8.99 for four screens simultaneously in HD and Ultra HD.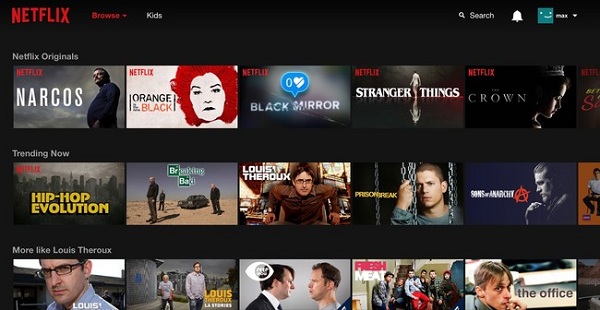 Netflix's strength is its cross-platform support and streaming quality, which far surpasses most other services. There's an app or way to stream Netflix on pretty much any device available, although some older smart TVs are the exception. Netflix is a streaming only service, however, which means you can't download shows or movies for offline viewing.
The company's content catalogue varies by country. In the UK, it is relatively small with 3,000 movies available according to data from streaming search service Unogs. Netflix has a few big name new TV shows backed only by older or less popular shows. Movies typically appear several months after they are available on pay TV. Its US library is much more extensive.
Like Netflix, Amazon Prime Instant Video offers a subscription-based streaming service. The previous Lovefilm name continues as a postal disc-rental service, but is separate from the digital concern and it's only a matter of time before it is discontinued.
It is possible to pay a monthly subscription for Amazon Prime Instant Video, but it also comes as a default extra for Amazon Prime subscribers. By doing so, you get a whole stack of Amazon-based incentives too. Another bonus is the addition of more recent movies to rent or buy digitally. They are available on all platforms and you can download them to a mobile device for offline viewing. Some of the Amazon Prime membership content can also be downloaded for offline viewing.
Price
£5.99 a month for access to just Amazon Prime Instant Video.
Free with Amazon Prime membership - £79/year
Varying prices for rentals and purchases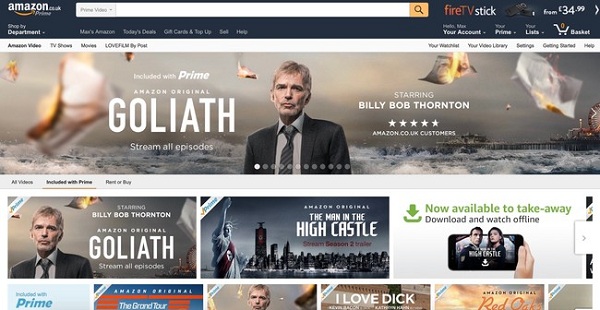 Amazon's video streaming service also varies by country. Its library is different in the UK compared to the US, for instance, but it combines a subscription service with a movie and TV show rental or buying service.
For those who subscribe to Amazon's Prime service, users get access to a subset of movies and TV shows that often includes the first couple of seasons of a TV show. The following seasons are then available for an additional fee. Its movie selection has several streaming exclusives, but as with Netflix they often take a while to appear. The UK library of popular shows is different in content but comparable in size to Netflix. Highlights include Mr Robot, Alpha House and Transparent.
Amazon supports streaming via several consoles, its own Fire TV and tablet devices, iOS devices and in-browser support. TV shows and movies can be stored for offline viewing on iOS devices. Support for Android devices not made by Amazon is poor, requiring a multi-step process to install the Amazon Video app through the Amazon Underground store, which must be downloaded from Amazon's website as it is not available in the Google Play store.
Streaming quality is similar to Netflix and will stretch up to 4K with Amazon's Fire TV box.
iTunes
Apple's digital media store is well established and it has a lot of experience with selling standard definition and HD movies and TV shows. It offers a vast selection to rent or own, which can then be played through Apple products or a PC.
Price
New films
£3.49 to rent in SD, £4.49 to rent in HD.
£9.99 to buy in SD or HD.
old movies
£2.49 to rent in SD, £3.49 in HD.
£4.99 to buy SD, £5.99 for HD.
TV shows can bought as a collection on a series pass and as individual episodes in SD and, more often than not, HD. SD shows start at £1.89, while HD episodes start at £2.49.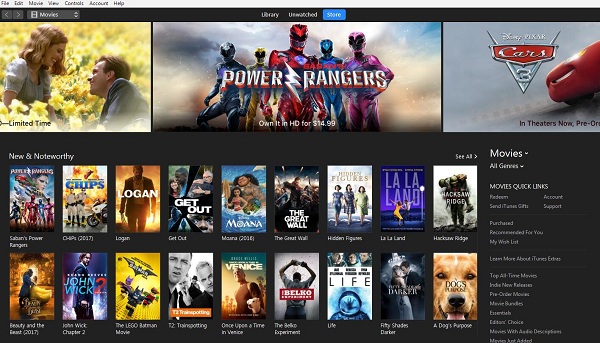 iTunes is well established and has, perhaps, the greatest collection of content available thanks to partnerships with just about every studio, major and minor, and broadcaster. Its system is robust and easy to use, and the devices it is compatible with mostly have the service integrated into their systems.
Its HD content is offered in Full HD 1080p and 5.1 surround sound where applicable. You can also chose to play back or download content in 720p if you do not feel your internet connection is speedy enough. Some older devices will have this as their default anyway, such as Apple TVs before the third generation.
Unlike many other services, you will be able to play iTunes content through a digital AV adaptor and HDMI cable plugged into a TV. Your TV will need to have HDCP enabled for HD content though. They also work over Airplay, but you might as well use the Apple TV to play them instead in that instance.
Like Apple, Google has its own digital content store. It's mainly for Android device owners, but is available on a far greater selection of devices than Apple's iTunes thanks to the open source nature of the platform itself. It offers both standard and high definition content, but has a more limited selection available, certainly when compared to its main competitor. Again, any films or shows you purchase will be stored in a Google digital locker.
Price
New films
£3.49 to rent in SD, £4.49 to rent in HD.
£9.99 to buy in SD, £11.99 in HD.
old moviess
£2.49 to rent in SD, £3.49 in HD.
£3.99 to buy in SD, £5.99 in HD.
TV shows vary in price and are available mostly as individual episodes or in series packages. Overall prices depend on how many episodes there are in a series, but episodes start at £1.89 each for SD, £2.49 for HD.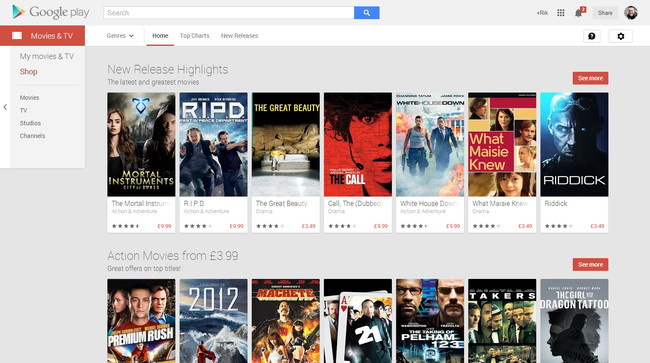 Google's digital store is simple and uncomplicated to use. It is also managed and maintained by one of the largest organisations in the world, so you can be pretty sure your content is not going to magically disappear.
The vast array of Android-powered devices also ensures that you should be able to play your films or telly programmes on any screen you like. You can also watch content on a television through a HDMI cable connected to your Android device if it supports it.
Most films are also presented in 5.1 surround sound, which is more than some other services offer. And you can store content locally for offline viewing.
Play iTunes Movies or TV Shows freely with M4V Converter Plus
If you've purchased movies or TV Shows from iTunes Store, you can play them on your iPhone, iPad, iPod touch, Mac, PC, or Apple TV. If you want to watch them on non-apple devices, like Galaxy S8, PS4, OnePlus 3, LG G6, etc. You can go to try this iTunes Movie converter - M4V Converter Plus. With it, you can convert HD movies with iTunes Extras to common video format, such as MP4, MOV, AVI, WMV and so on. Key Features of M4V Converter Plus are listed as below.
M4V Converter Plus support removing Apple DRM protecion legally.
The excellent software supports any iTunes videos, including iTunes purchased movies, Rentals, TV shows and music videos.
The software allows you to easily convert DRM M4V to unprotected MP4, MOV, AVI, WMV, etc.
Get DRM free iTunes videos with multiple subtitles and audio tracks kept.
It helps you convert iTunes videos in a few clicks with original quality kept.
Supported OS: Mac OS X 10.8 or later and Windows 7/8/10.
Related Topics